March 13, 2014 | Policy Brief
The Anatomy of Turkey's "Gas-For Gold" Scheme with Iran
March 13, 2014 | Policy Brief
The Anatomy of Turkey's "Gas-For Gold" Scheme with Iran
Co-authored by Rachel Ziemba
Headlines alleging corruption in Turkey continue to hammer the ruling Justice and Development Party (AKP). Among the most damaging are the charges linking high-level Turkish officials and businessmen to the massive "gas-for-gold" sanctions-busting scheme that yielded neighboring Iran some $13 billion in Turkish gold between 2012 and 2013. Turkey executed these transactions at the height of the Western sanctions regime, which was designed to deter Iran's illicit nuclear program.
Economic data from this time period, compiled by Roubini Global Economics, now sheds light on the large quantities of gold Turkey exported directly to Iran, and to the UAE, where it was melted into bricks before being sent on to Iran. The data also demonstrates how Turkey was able to replenish its gold from elsewhere in order to continue to export such large quantities of gold on an ongoing basis.
Figure 1: Turkish Gold Exports to Iran and UAE (USD million)
Source: Turkstat
During the height of the "gas-for-gold" period, Switzerland was Turkey's primary source of gold, supplying a total of $8.15 billion in gold from March 2012 to July 2013, or $7 billion in net imports, (excluding Turkey's exports of gold to Switzerland). While some of Turkish imports were absorbed at home, Turkey exported $15 billion in gold including $5.3 billion to Iran, with $7.9 billion going to the UAE, which was Turkey's second largest gold provider. African gold producers (South Africa, Ghana) ranked third in gold exports to Turkey.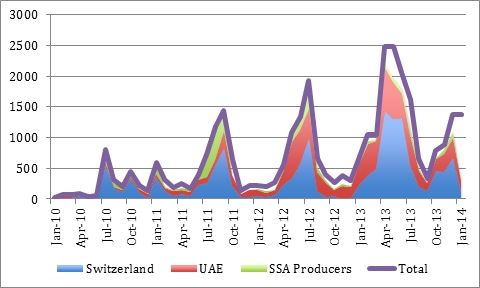 Figure 2: Switzerland was Turkey's largest gold supplier (USD million)
To be sure, these countries may not have known the destination of the gold between March and October 2012, when the "gas-for-gold" scheme began to receive significant attention in the press. However, once it was widely reported, these countries continued to fuel the Turkey-Iran gold trade for another nine months (until the end of June 2013), allowing profit to trump international security concerns surrounding the Iranian nuclear program.
After U.S. sanctions legislation closed the "golden loophole" that allowed these transactions through July 2013, Turkey's gold exports dropped precipitously to an average of $250 million a month from August 2013-October 2013, before fading to zero between November 2013- January 2014.
Today, Turkey's gold imports continue exceed the average levels during the time preceding "gas-for-gold." This might be explained by a high domestic demand for gold as a store of value given high inflation.
Figure 3: Turkey Reverted to Net Importer Status in 2013 (USD thousand)
Turkish politicians and businessmen are now paying a price for their involvement in the "gas-for-gold" scheme. Based on the economic data now available, the UAE, Switzerland, Ghana, and South Africa should also face similar scrutiny internationally for their role in these transactions.
Jonathan Schanzer is vice president for research at Foundation for Defense of Democracies. Rachel Ziemba is the director of emerging markets at Roubini Global Economics.