June 30, 2016 | The Huffington Post
Gulf Monarchies Condemned Orlando Attack While Promoting Hate Preachers: Government-Sponsored Cleric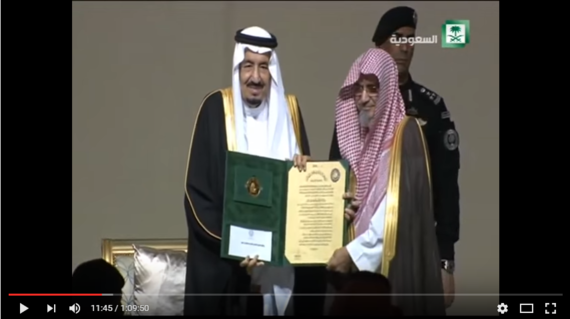 [Saleh bin Humaid being handed an award for "service to Islam" this year by Saudi Arabia's King Salman. Source: YouTube]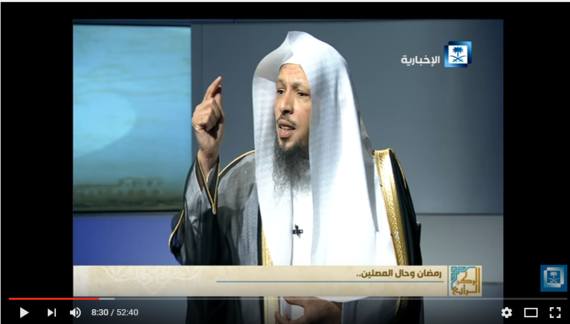 [Saad bin Ateeq al-Ateeq on Saudi Arabia's state news channel this month. Source:YouTube]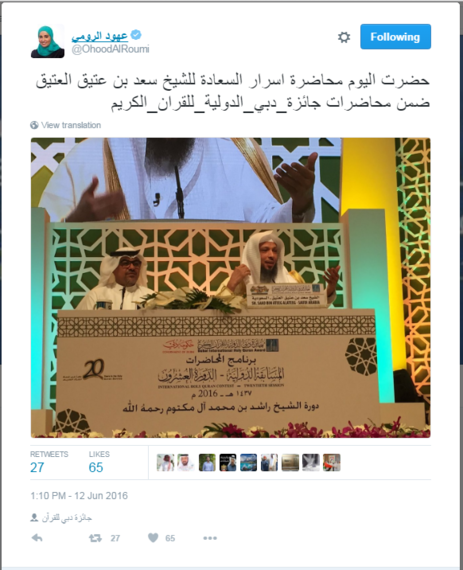 [Tweet by the UAE's Minister of State for Happiness indicating that she attended Ateeq's lecture this month in Dubai. The logo in red on the table reads "Government of Dubai". Source:Twitter] By order of King Salman, Saudi Arabia promoted another noted hardliner to the regime's top religious council last month, even though the way that preacher had criticized IS was reportedly by calling it "atheist" and "more infidel than Jews and Christians." Further, the kingdom's pick for the Mecca Grand Mosque's opening prayer leader on the first night of Ramadan this year took to social media earlier in 2016 to peddle his conspiratorial belief that there is an "alliance of Safavids with the Jews and Christians against Muslims." Condoning Terrorism: To their credit, Gulf governments regularly condemn terrorism in general and specific public statements. However, many of the Ramadan speakers promoted by these regimes have long advocated ambiguous or incendiary positions on terror, condoning violence and glorifying or defending its practitioners.
[Zakir Naik addressing Dubai's 2016 Ramadan Gathering. Source: YouTube]
David Weinberg is a Senior Fellow at the Foundation for Defense of Democracies. He specializes on Saudi Arabia and the Gulf states. Follow him on Twitter @DavidAWeinberg.